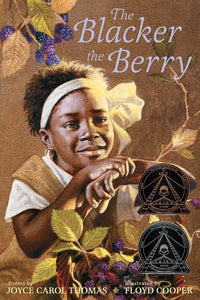 By Joyce Carol Thomas, Illustrated by Floyd Cooper
Black is dazzling and distinctive, like toasted wheat berry bread; snowberries in the fall; rich, red cranberries; and the bronzed last leaves of summer. In this lyrical and luminous poetry collection, Coretta Scott King honorees Joyce Carol Thomas and Floyd Cooper celebrate these many shades of black beautifully.
Included in Brightly.com's 2017 list of recommended diverse poetry picture books for kids. "Highly recommended for home and school libraries," commented Brightly's Charnaie Gordon. "Each melodic poem eloquently conveys the beauty of different skin tones and complexions. There are also themes of family, traditions, feelings, self-love, and acceptance echoed throughout this book."
Pages: 32 pages
Age: 4 to 8
Format: Hardcover